The range of machines elevator Torin DRIVE can cover all the needs required for different types of installation. From small low-speed lift to the lift high load and speed with technologies as different and varied.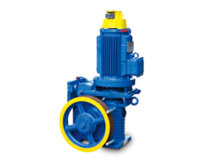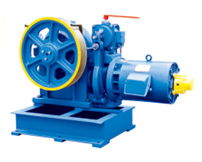 Industrial design robust and accurate these machines cover the range of conventional loads up to 2500 kg and 12500 kg of supporting up static – different combinations of the elements of reduction and pulleys can provide them with a wide range of use –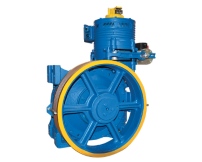 The replacement of the asynchronous motor by a permanent magnet synchronous motor on a gear can bring additional benefits in power consumption, heat, stopping accuracy and comfort.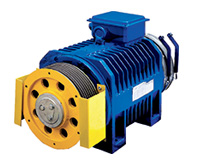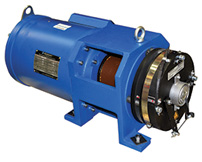 -Serie ER - VM : they are rather developed compact gearless for elevators machineroomless - rather slender in design and reduced height, they are available with several types of pulleys, cables, and traction positioning.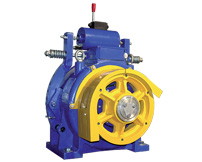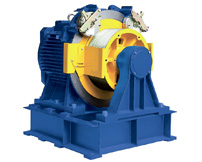 -Serie GTW / GTS / GTN : these are external rotor models that allows other to increase the performance in terms of torque (load), speed and traffic. These machines allow diameters larger pulley diameter, so, more conventional ropes diameter (D10 to 16mm). These provisions to avoid increasing the number of cable installation above to replace an existing gear.
In the range of these machines, we find the possibilities in suspension 1/1 and 2/1 up to speeds of 7 m/s. Some machines have been developed specifically for modernization in 1/1 to fit the constraints of the existing lift.
Miscellaneous : It is important to note that the gearless range consists of a minimum of 20 poles motor, a very important factor to guarantee the sound, flexibility and ease of adaptation different vvvf drives. All machines are equipped with an encoder that can be incremental or absolute (sin-cos / en-dat) according to customer choice. The braking system of geraless are consistent with the safety requirements of the standard for the safety device to prevent uncontrolled upward movement in the lift car.(§9.10 EN81.1)
Finally, to complete the supply of machines, we also offer a wide range of deflection pulley / returns and solutions for all types of frames, whether the standard adjustable to tailor to the existing.